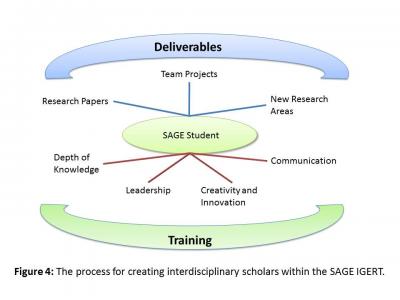 Each trainee will have their primary mentor from their home department but also be paired with a mentor from a complementary discipline to guide the trainee's educational program and dissertation research.
Each trainee will also work as a part of an interdisciplinary team with other students working on related research in biofuels, solar energy, or energy storage.
The SAGE IGERT will provide participating students with a depth of understanding to make significant contributions to green energy and green chemistry scholarship and innovations. The program provides breadth of experience enabling trainees to translate and transfer their knowledge to key stakeholders working in complex energy systems. After participating in the SAGE program, students will be able to:
Design and evaluate safer and more efficient energy technologies and the systems that enable the adoption of these technologies.
Understand the origins, manufacturing, and fate of chemicals and materials in the environment.
Effectively use qualitative and quantitative metrics across multiple disciplines.
Identify, evaluate, and minimize the use of hazardous chemicals.
Communicate scientific data and concepts to experts in other fields, governments, industry, and the public.
Traineeship Requirements
Interdisciplinary Introduction to Green Chemistry (234): During the first year of their fellowship, students will take a 3 unit, project-based, introduction to green chemistry.
Interdisciplinary Team Projects: During the students' 2nd and 3rd years, they will work in interdisciplinary teams to complete projects relating to their research theme: biofuels, solar energy, or energy storage.
Core competency coursework: During the 1st and 2nd years, students will complete 3 courses or graduate seminars outside their primary discipline that relate to their research theme or field of study.
Green Chemistry and Sustainable Design Seminar Series: All students will participate in this weekly seminar, which will serve as a forum for discussing interdisciplinary research in progress and highlighting visiting speakers.
Annual Symposium: At the end of each spring semester, all SAGE IGERT fellows and faculty will convene for a symposium featuring keynote speakers, student poster presentations, and topical sessions. At the culmination of fellows' experience in the SAGE IGERT program, they will give an oral presentation of their work, highlighting its interdisciplinary elements and applications in society.
Outreach: All fellows must participate in at least one outreach activity during each of their first two years of the program. This will integrate societal engagement into fellows' regular activities.
Professional Development: Trainees will participate in professional development activities that are held in conjunction with the seminar series. Additional professional development activates will be offered outside of the seminar series and be tailored toward meeting specific student needs.